Once again, Florida and racism are in the news together. The Hill We Climb, the historic poem by Amanda Gorman, was banned from a Miami elementary school library. And all it took was a single complaint.
In March, a parent challenged The Hill We Climb and several other books for what she claimed included critical race theory, gender ideology, indirect hate messages, and could "cause confusion and indoctrinate students." Causing actual confusion, the parent cited Oprah as the author of the poem.
The other books included such incendiary titles as The ABCs of Black History (ages 2-8), Cuban Kids (ages 7-8), and Love to Langston (ages 8-11). Following this single accusation, the school's review committee restricted access to only the middle school library.
If you're thinking "It's only one school. What's the big deal?" then you haven't been paying attention. Florida Governor Ron DeSantis passed his "Don't Say Gay" bill in 2022; as a result, the number of book challenges doubled from the previous year. In the last three months alone, 175 books have been banned in Florida. Excessive bans have also occurred in Texas, Utah, Missouri and South Carolina.
Speaking Truth to Power
At 22, Amanda Gorman was the youngest person to recite a poem at a presidential inauguration. She references the January 6 insurgency, which had occurred just two weeks prior. Removing her words from libraries and from the eyes and minds of children is an attempt to erase history. Not only the contribution of this amazing young woman, but also evidence of the violent, treasonous attack incited by the president of the United States.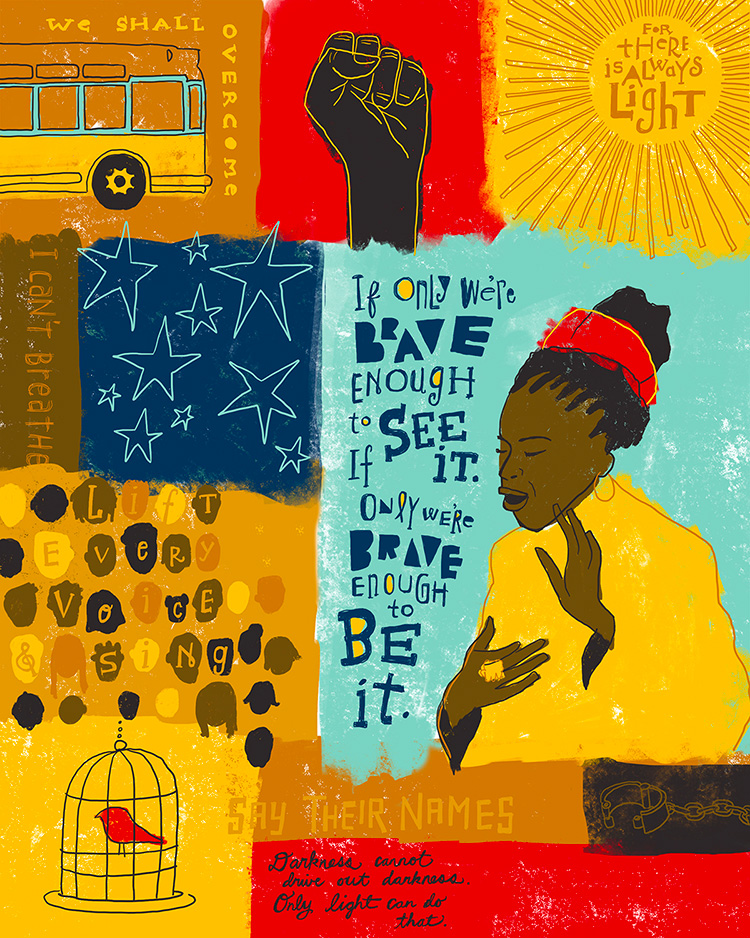 Inspired to Create, to Think, to Act
A few months after Biden's inauguration, I enrolled in an illustration class, hoping to inspire myself to greater heights of creativity. When our first assignment was to illustrate The Hill We Climb, I was indeed inspired — by the poem's words and the woman who wrote them. However, I had a difficult time picking one idea, image or theme to focus on.
While Gorman's poem ends on a hopeful, forward-looking note, I thought back to all this country had been through. Not just in recent months and years, but in decades and centuries. The journey of the Black American is the journey of America itself. It's intertwined and needs to be constantly revisited, revised and updated. Race and all related theories, are indeed, critical.
From the slaves that helped construct the building from which Gorman spoke to the civil rights protests that occurred on the lawn in front of it; from "We Shall Overcome" to "I Can't Breathe" and "Say Their Names;" from Maya Angelou, the first Black (and woman) poet to read their poetry at an inauguration to Amanda Gorman, the youngest. It all creates a quilt of events and words and lives lost, equal parts inspiring, infuriating and tragic. That's what I wanted my art to say and to be.
Looking at my illustration again, rewatching Gorman's recitation, and reflecting on why it's back in the news, I'm reminded that I (not just my art) can and should be equal parts inspired, infuriated and mournful. For Black Americans, for queer people, for immigrants, for women. So many of the marginalized people in my life (me included) have had to learn to live in all three places at once. To retain our sanity, enjoy our victories, and keep fighting against the hate.
Here are a few ways to combat racism and hate.
Vote for and support legislators, educators and school board members that realize the value of diverse stories in children's books. Contribute to organizations like Pen America, the ACLU, and We Believe that advocate for the freedom to read and learn. Buy banned books — for your local schools and libraries, and for your own kids.
And a final call to action — rewatch Gorman's speech, get inspired anew, and keep on fighting.