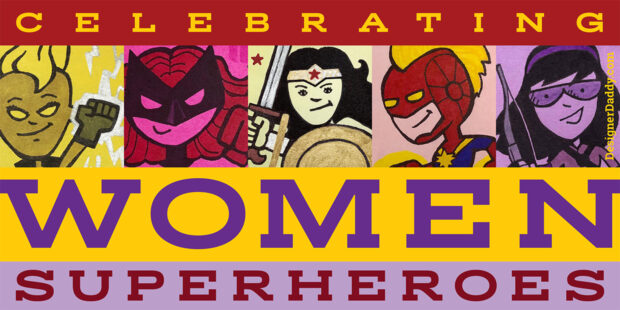 Our house of two dads and a son is never short on testosterone, so ensuring my kid has female role models is of utmost importance. And while he has plenty of real-life women to inspire him, I've also enjoyed introducing my son to the vast and vivacious catalog of heroines and villainesses from the worlds of comics, movies, TV and video games.
While I've already featured Black, Latino, and LGBTQ characters, I've not done a proper showcase for the ladies. And while this comes on the tail end of International Women's Month, it's never a bad time to celebrate Girl Power!
My hope with collections like these is to educate and inspire other parents to do the same. Each note below features a link where you and your kids can learn about that character, whether you're looking to doodle them on a post-it note or enjoy a family movie night.
. . . . . . . . . . . . . . . . . . . . . . . . . . . . . . . . . . . . . . . . . . . . . . . .
STORM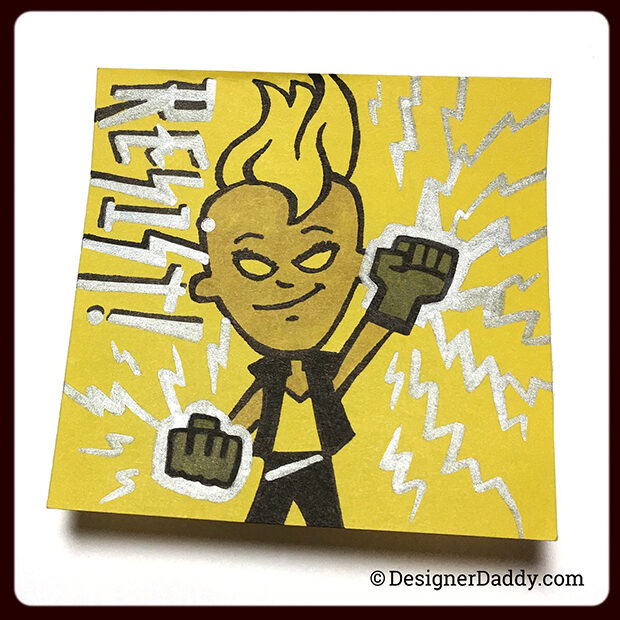 Storm is the best known woman of color in comics, having also appeared in six X-Men films, three  animated series and numerous video games. She's been featured in my son's lunch five times, this one being my favorite. Ororo is shown here raising a lightninged fist in protest, drawn during the height of the #MeToo movement.
.
SUPERGIRL  |  AMERICA CHAVEZ  |  ORACLE  |  BATWOMAN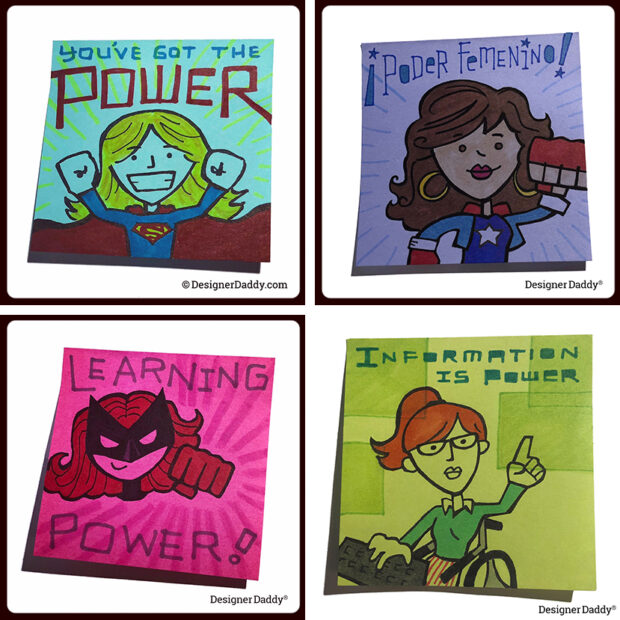 Whether it's physical, mental or strength of character, these women heroes have power in abundance! Supergirl is the cousin of that other red and blue hero, but has made a name for herself in both film and a long-running TV series. America Chavez (Miss America) is a more recent comics creation, debuting in 2011. Look for her in 2022's Doctor Strange in the Multiverse of Madness. Oracle is the second moniker of Barbara Gordon (AKA Batgirl). After losing the use of her legs, Babs became a vital resource for much of the DC Universe. Oracle's most recent non-comics appearance was in the third season of Titans. Batwoman, Gotham's kick-ass, lesbian crimefighter, can be seen in her own TV series.
.
THOR (JANE FOSTER)  |  SPIDER-GWEN  |  X-23

Marvel has done an excellent job in recent years of creating strong female counterparts of some of their most popular male characters. Jane Foster took over the role of Thor in the comics, and will do the same in the upcoming film, Thor: Love and Thunder. Spider-Gwen is an alternate universe Gwen Stacy (Peter Parker's ex), and appears in the spectacular Spider-Man: Into the Spider-Verse. X-23 is a clone of Wolverine, and kicks all kinds of ass in the film Logan. For something more kid-friendly, check out X-23 in Wolverine and the X-Men animated series.
.
HARLEY QUINN  |  POISON IVY  |  CATWOMAN

No one has a better rogues gallery than Batman; including this trio of female foes. Harley Quinn, Poison Ivy and Catwoman have appeared in multiple films, video games and TV series. For highlights of each, check out Batman: The Animated Series, Gotham, and The Batman. Not for the kiddos: the hilarious Harley Quinn animated series.
.
MERA  |  HAWKWOMAN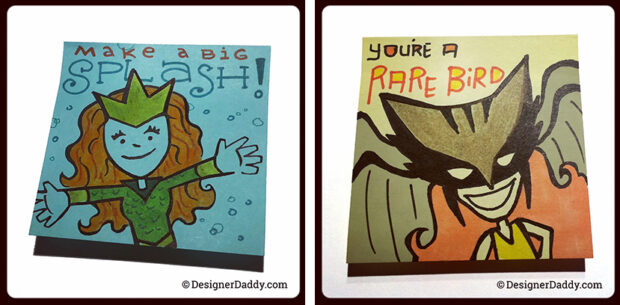 Women were often written into comics as love interests for their male counterparts. Mera and Hawkwoman are two such examples who have since emerged as fully-realized characters on their own, ruling the sea and sky in film, TV and video games.
.
REY  |  PRINCESS LEIA  |  ROSE TICO

For over 20 years, Princess Leia (later General Organa) was the only woman of note in the Star Wars galaxy. Yet by the time the third trilogy debuted in 2015, a number of powerful, influential, inspiring females (human and otherwise) had graced screens big and small. I loved that Rey was the central character of the first Star Wars film my son saw in the theater. And while Rose Tico's character was poorly written at times, it was great to see an Asian woman as part of the saga.
.
ELASTIGIRL  |  EDNA MODE

The Incredibles introduced the world to a couple of powerful women,  Elastigirl and Edna Mode. Between them, they held their own against any man, any foe, or any cape.
.
LOIS LANE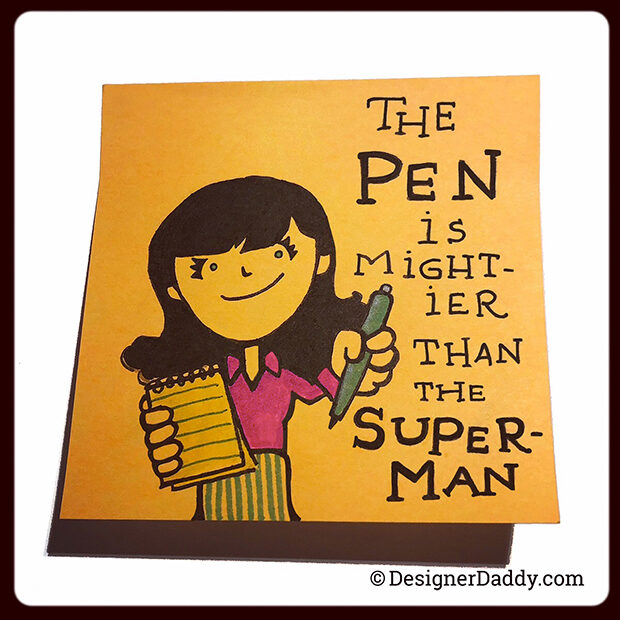 When Margo Kidder passed away in 2018, I drew a lunch note in her honor. She was the quintessential Lois Lane: curious, passionate, and able to bend a man of steel to her will.
.
MS. MARVEL  |  INVISIBLE WOMAN  |  PEARL  |  MANTIS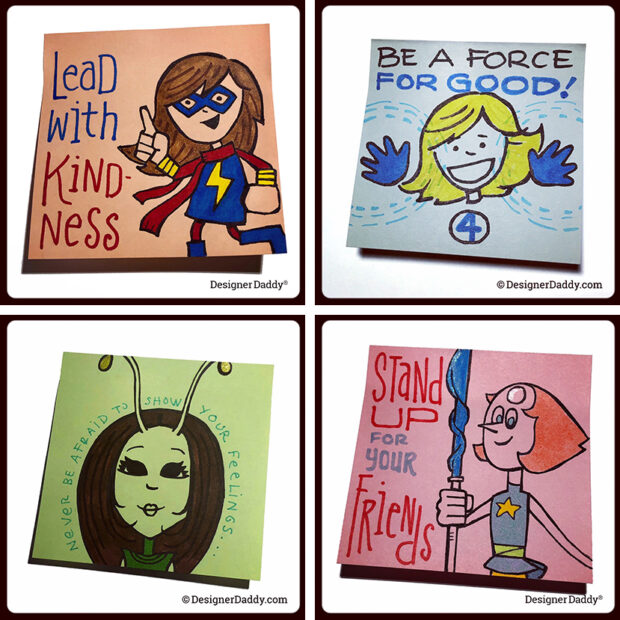 In comics as in real life (and on the occasional lunch note), women play a vital role in making the world a kinder, peaceful, more accepting place. Ms. Marvel (Kamala Khan) will soon appear in her own live-action TV series. The Invisible Woman is one forceful fourth of the Fantastic Four. Pearl is non-binary woman, and one of the mentors of the titular character in Steven Universe. Mantis is a powerful empath appearing in both Guardians of the Galaxy and Avengers films.
.
CAPTAIN MARVEL  |  GAMORA & NEBULA  |  BLACK WIDOW  |  WASP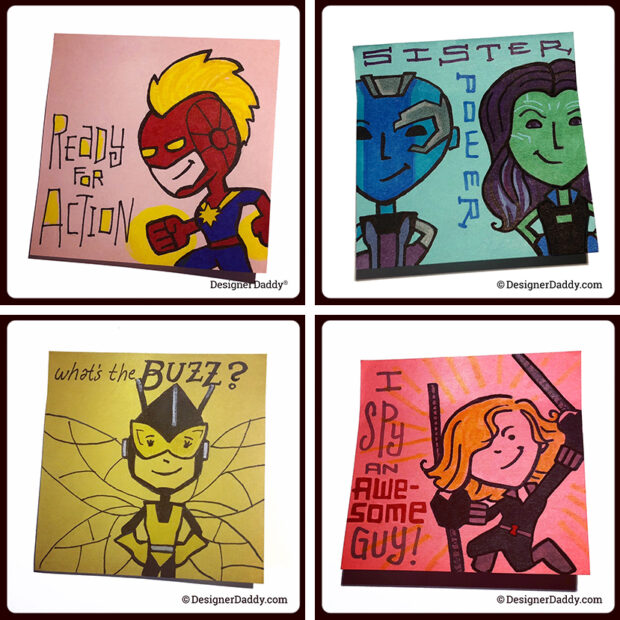 Speaking of Avengers, the MCU has given us a plethora of strong women to cheer for and be amazed by. In the comics, Carol Danvers took over the mantle of Captain Marvel, going on to star in her own film. The relationship between sisters Gamora and Nebula is strained and complicated, yet one of the more genuine storylines of the Avengers and Guardians of the Galaxy films. Black Widow was the only woman in the first Avengers, and has appeared in eight MCU films, including her own. Much more than a sidekick, Wasp was not only a great partner to Ant-Man, but also the first woman in the original Avengers comics.
.
SHURI  |  OKOYE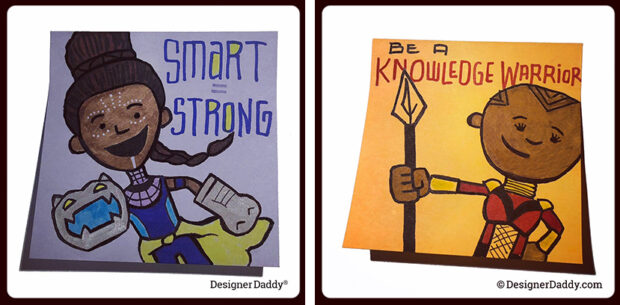 Perhaps more than any other MCU film, Black Panther showed us how varied and vital women superheroes can be. Two of those were Shuri, T'Challa's inventively genius sister, and Okoye, the loyal general of the Dora Milaje, Wakanda's protectors.
.
RUTH BADER GINSBURG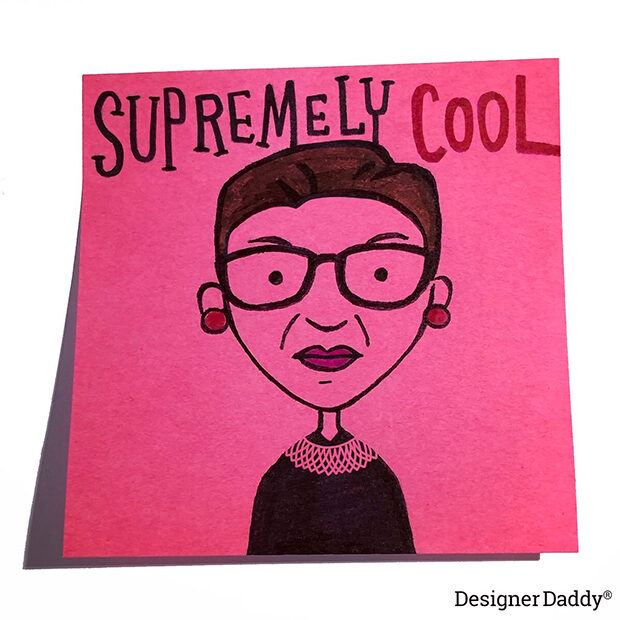 Ruth Bader Ginsburg may not have starred in an action movie or battled villains in a video game, but she spent a lifetime fighting for equality. Among her many accomplishments were combatting sexism in the workplace and being the first Supreme Court justice to perform a same-sex marriage. RIP RBG
.
And now for some villains… 😈
EVIL QUEEN  |  CRUELLA DE VIL  |  URSULA

Disney does villains better than anyone, and the evilest, most powerful, most iconic of them are largely women. The Evil Queen poisons her own stepdaughter, Cruella De Vil makes fashion out of puppies, and Ursula seduces a young songstress to give up her voice… all while camping it up with attitude and style.
.
GOZER  |  CAPTAIN PHASMA  |  ALIEN QUEEN

As my son's gotten older, it's been fun introducing him to films with more action and scares. Gozer is the big bad of one of our all-time favorites, Ghostbusters (and also in Ghostbusters: Afterlife). Captain Phasma is the galactically underused Stormtrooper boss in the third Star Wars trilogy. The Alien Queen stole the show (and lots of intestines) in my son's first horror film, Aliens.
.
MALEFICENT  |  RITA REPULSA  |  HELA

What's a good villainess without a killer headdress? Maleficent is wonderfully witchy in Sleeping Beauty as well as her own live-action films. Rita Repulsa is the first and fiercest foe in the long-running Power Rangers franchise. Hela emerges from hell to repeatedly kick her younger brothers' butts in Thor: Ragnarok.
.
Now back to the good gals… 🦸‍♀️
SCARLET WITCH  |  ZATANNA  |  BELLATRIX LESTRANGE  |  STAR BUTTERFLY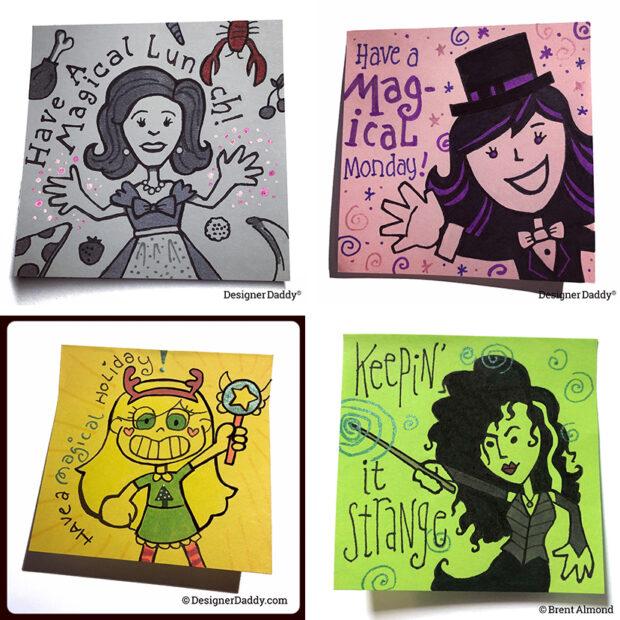 Women heroes (and villains) wield magic wands like no other in TV, films, books and comics. Scarlet Witch went from second string Avenger to co-star of her own show on the weird and clever Wandavision. Zatanna uses backwards-spoken spells to fight evil with Justice League Dark. Bellatrix Lestrange was second only to Voldermort when it came to wreaking havoc in the Harry Potter books and films. Star Butterfly is a tween princess battling baddies on the sweet and quirky Star vs the Forces of Evil.
.
PINK RANGER  |  MARGE SIMPSON  |  BUTTERCUP

For all you nineties kids out there… The Pink Ranger always brings an extra bit of color to the already over-the-top Power Rangers series. Marge Simpson holds together her loveably dysfunctional family on The Simpsons. Buttercup is the rough and tumble sister on Powerpuff Girls.
.
ELEVEN  |  HAWKEYE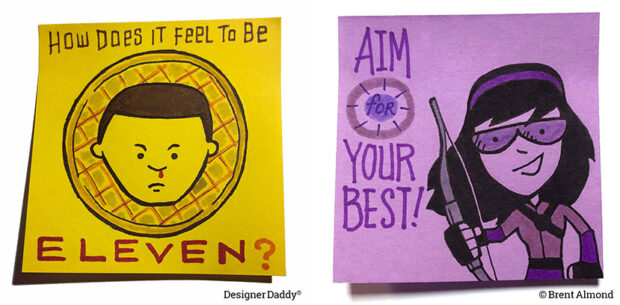 Two of our family's favorite shows in recent years have starred heroic young women trying to find their way in the world. Eleven navigates the terrifying Upside Down (and equally terrifying puberty) on Stranger Things, while Kate Bishop slings arrows as an upstart Hawkeye through the urban jungle of New York.
.
WONDER WOMAN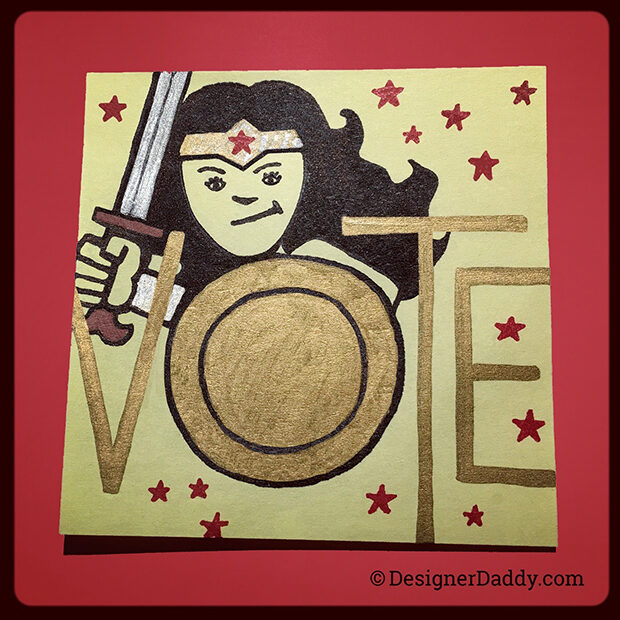 The list of women superheroes always starts (and ends) with Wonder Woman. Her impact on and appearances in pop culture and media are too numerous to mention, so I'll just direct you to a photo of me and my son meeting Lynda Carter!
. . . . . . . . . . . . . . . . . . . . . . . . . . . . . . . . . . . . . . . . . . . . . . . .
This list could have been muuuuuch longer, so I tried to focus on more well-known characters. Follow my SuperLunchNotes account in Instagram to check out the complete library of super, duper dames (and a few dudes, too).
This post is dedicated to all of the amazing women that have played a role in my life, heroes all: Mom, Grandma, Teri, Brenda, Tanya, Peighton, Amy, Addy, Lucy, Grace, Dana, Rosella, Jo, Kate, Jesica, Kem-Lyn, Audrey, Angela, Susan, Sharisse, Karin, Ellen, Kat, Margarita, Jessi, Beth, Barrie and Thea. To name a few.